Vampiric Touch

Vampiric Touch

30 yd  range
16% of Base Mana
1.5 sec

cast

Causes X Shadow damage over 15 sec, and when you deal damage with Mind Blast to an affected target you cause up to 10 party or raid members to gain 1% of their maximum mana per 10 sec.

Usable by
Class
Priest
Properties
Type
Offensive
School
Shadow
Cooldown
None/Global Cooldown
Talents
Talented
Yes
Talent tree
Shadow
Other information
Ranks
1
Related debuff

Vampiric Touch
Suffering 95 Shadow damage every 3 sec.
Duration: 15 seconds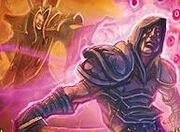 Vampiric Touch is an ability in the Shadow tree for priests.
Patch changes
External links
Community content is available under
CC-BY-SA
unless otherwise noted.